My name is Matt Gilliatt- freelance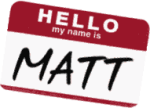 web developer. I'm invisible... I work primarily for web services companies, sort of like a wholesaler.
There won't be any logo of mine stuck on a site I produce for you. There won't be any stupid tags in the code. I don't want any credit (checks only please :)
Browse through the site and get familiar. I've tried to give a vague idea of my capabilities here, html & graphic design (of course), along with a little asp, php, mysql, javascript, css, dhtml, etc. Everything here is coded manually, as is all of my work.
In addition to creative and production-type projects, I'm also available for the mundane (read maintenance & updates).
You can see a few examples of my work (placed here with the express consent of the clients involved) on the 'work' page. Read a few testimonials on the 'buzz' page. You can get answers to some of those questions that are probably forming right now on the 'details' page. I'm going to assume you already know what the 'contact' page is for.
If at any point during this experience you're ready to talk and need immediate gratification go ahead and skip 'contact' and call 317.679.5487 or send me a note.